T250 VM: Hard, pure and with a great desire to fish.
A fisherman for adults only.
The ultimate fisherman. The fishing instrument par excellence wanted by Marco Volpi, the multi world boat fishing champion who has combined his technical expertise with Tuccoli quality. The T250 VM is an uncompromised boat. The center console offers all the angler needs to enjoy his activity with as much comfort, advantage and pleasure as possible. The fishing area is easily accessible even in the most difficult sea conditions, thanks to the excellent hull-outboard duo. Stability is guaranteed both at anchor and when drifting. Protection from the wind is excellent also thanks to the T-Top in the helm station. Put your rod holders wherever you want and enjoy a multitue of live bait and fish tanks, worktops as well as a shower to clean yourself and your boat. All this within a trailerable boat. A real toy for adults only.
T250 Capraia
It's not just what you see, it's how it makes you feel
Small doesn't mean less. At most, the T 250 Capraia is the smallest of the large Tuccoli fisherman models. It is the demonstration of how an elegant center console of just 7.5 meters can offer all you need to enjoy a weekend at sea without giving up the comfort, elegance and tranquility of having a safe and dry boat. The T 250 Capraia shares the same hull as the T 250 VM, but the deck is designed to fully meet the needs of the most refined cruisers. Retractable cleats, a stern sofa that can be folded down and converted into a sundeck, two electrically-operated backrests in the bow. And then, a toilet room with sink, a double berth below deck and exclusive Besenzoni seats. You'll soon discover you can't do without her.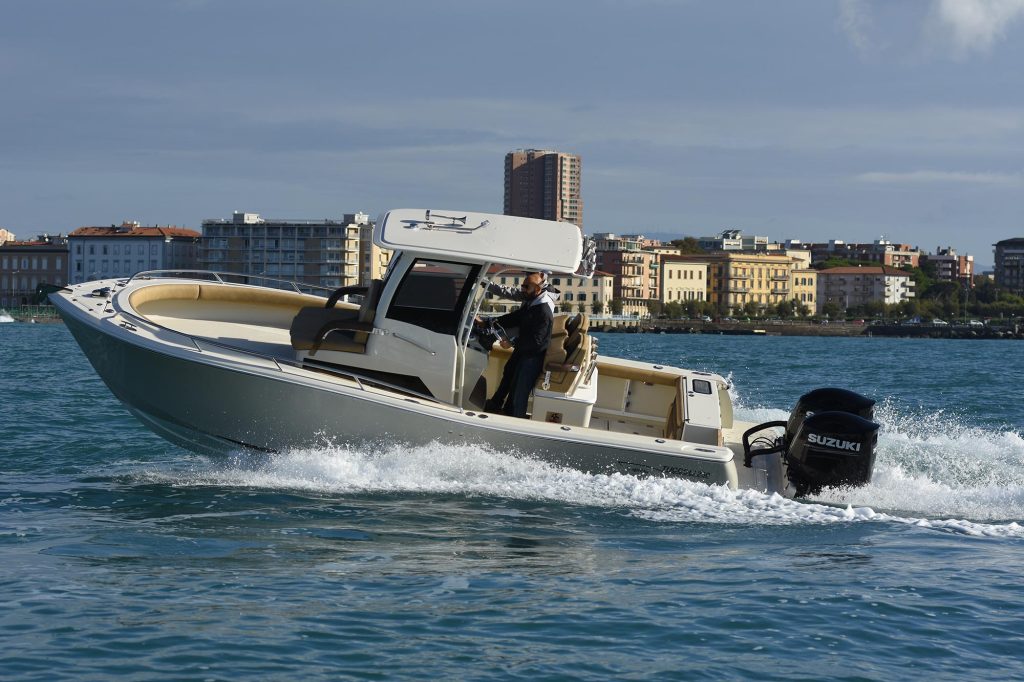 "The charm of fishing is that it is the pursuit of what is elusive but attainable, a perpetual series of occasions for hope."

John Buchan