The T370 Coupé in detail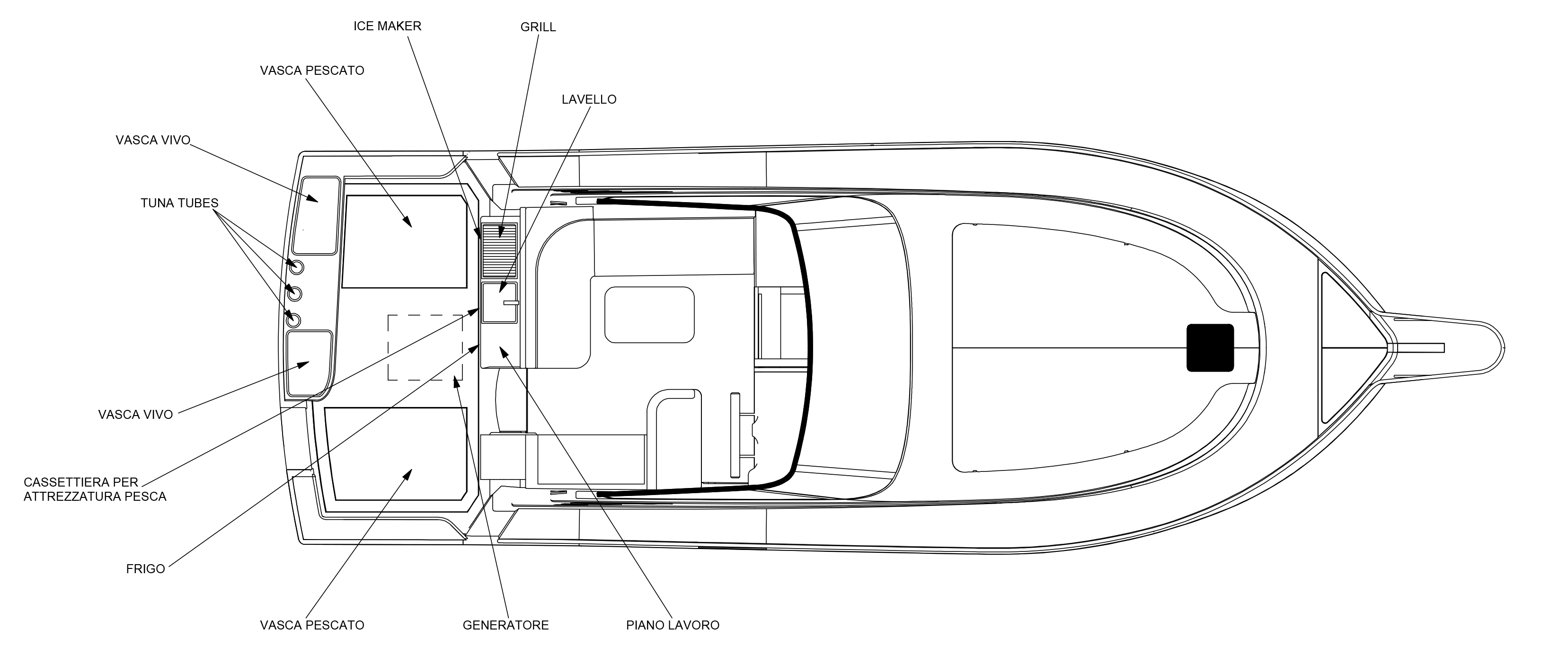 The Tuccoli T370 Coupé, with her lines in perfect American sport fisherman style, is a 100% Made in Italy product. The hull is designed to face our seas, whose waves are compeltely different from the ocean' ones. The wedgelike bow maintains a significant angle for most of the hull, ending aft with a deadrise of 18 degrees, which makes the hull reach a cruising speed of over 25 knots and a top speed of 34 with just 2 x 370 HP Volvo Penta D6 engines. Moreover, the hull ensures great stability. Not only when sailing, but especially with all engines off. This is an important advantage not only for those who use the T370 Coupé to fish, but also for those who use the boat for cruising purposes: having a hull that is little incline to roll significantly improves life on board when you are at anchor.
The interior spaces and volumes of the Tuccoli T370 Coupé are designed to enhance her versatility. The aft cockpit of the boat offers a surface of almost 5 square meters, useful to accommodate more anglers at the same time, without hindering the fishing action. A large living area is close to the helm station. Located on a raised level, it is protected by the large hard top that characterizes the hull line and can be closed by a large glass window, perfect for convivial moments or for dining on board.
The C-shaped dinette is the hub of life on board. Equipped with an adjustable table, it is served by an outdoor kitchen with a two-burner ceramic hob, a sink with mixer tap and a 50-litre fridge. Sunbathing enthusiasts can benefit from a 5-square-metre sundeck on the deckhouse, in the forward area of the T370, which can be reached in complete safety thanks to the 27 cm side-decks and protective handrails.
The T370 Coupé fully expresses Tuccoli's mission: the customer does not have to buy a fisherman, but his own fisherman. Moreover, thanks to a hull length of 9.98 meters, she requires no registration. The boat has particularly generous interior volumes that fully exploit the width of loofs and the hull beam. Thanks to this, guests can enjoy two distinct cabins below deck: the master cabin in the bow with a central double bed, and a guest cabin amidships with two beds that can be transformed into a second double one. Between the two areas, designers have placed an additional living area but, above all, two separate bathrooms. The forward one has direct access from the master cabin.
On the basis of this layout, the shipyard is available to study with the customers custom living and layout options to fully meet their needs.