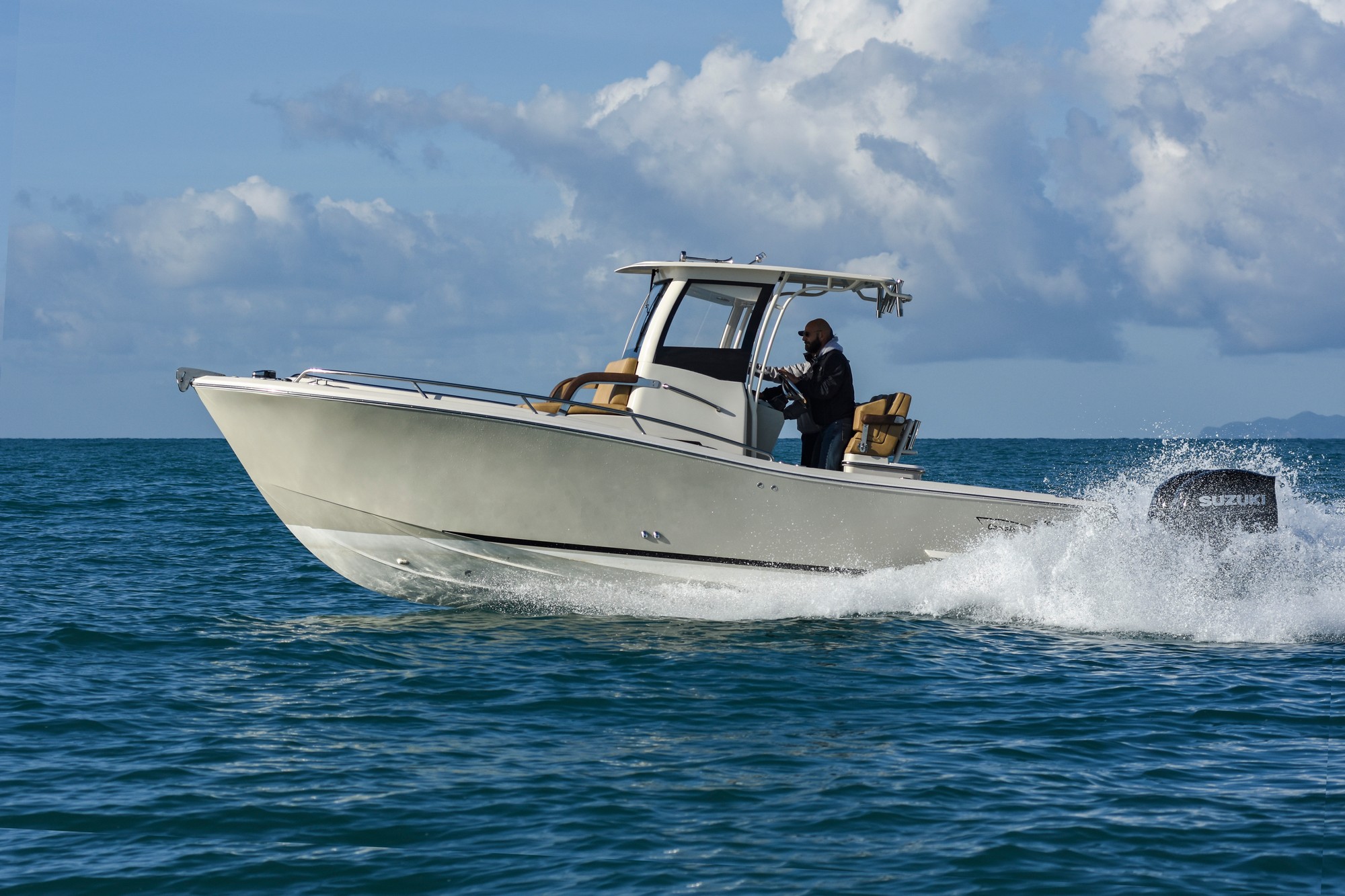 T250 Capraia
The safety of a fisherman
with the comfort of a small-sized yacht

EXTERIORS
A Deluxe Cruiser
Retractable cleats, fold-down aft sofa, two additional electronically controlled forward backrests that come out of the gunwale to create loungers out of thin air; 42-litre refrigerator to keep drinks and food fresh at all times; marine toilet with internal sink, to have all the amenities that holidaymakers and ladies like; double berth and Besenzoni stilted seats. The legendary Tuccoli sailing and endurance with the elegance and comfort of a small yacht. For an all-comfort holiday.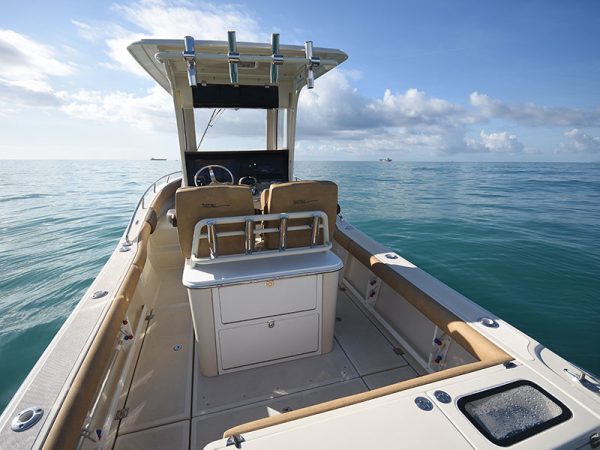 Hard top and sundeck: protection and tanning
A helm station with a console that is one metre wide and 55 centimetres deep for maximum driver comfort. The walkway is always unobstructed and never falls below 35 centimetres, making it easy to get around the boat without narrow, uncomfortable or unsafe passages where you can bang your feet and joints. Cockpit surface area is over four square metres to accommodate several people, while a 3-square-metre T-top protects and shades the console and part of the cockpit. And in the bow, no less than four square metres of sundeck for relaxing and sunbathing. Enjoy your very own padded and comfortable beach club.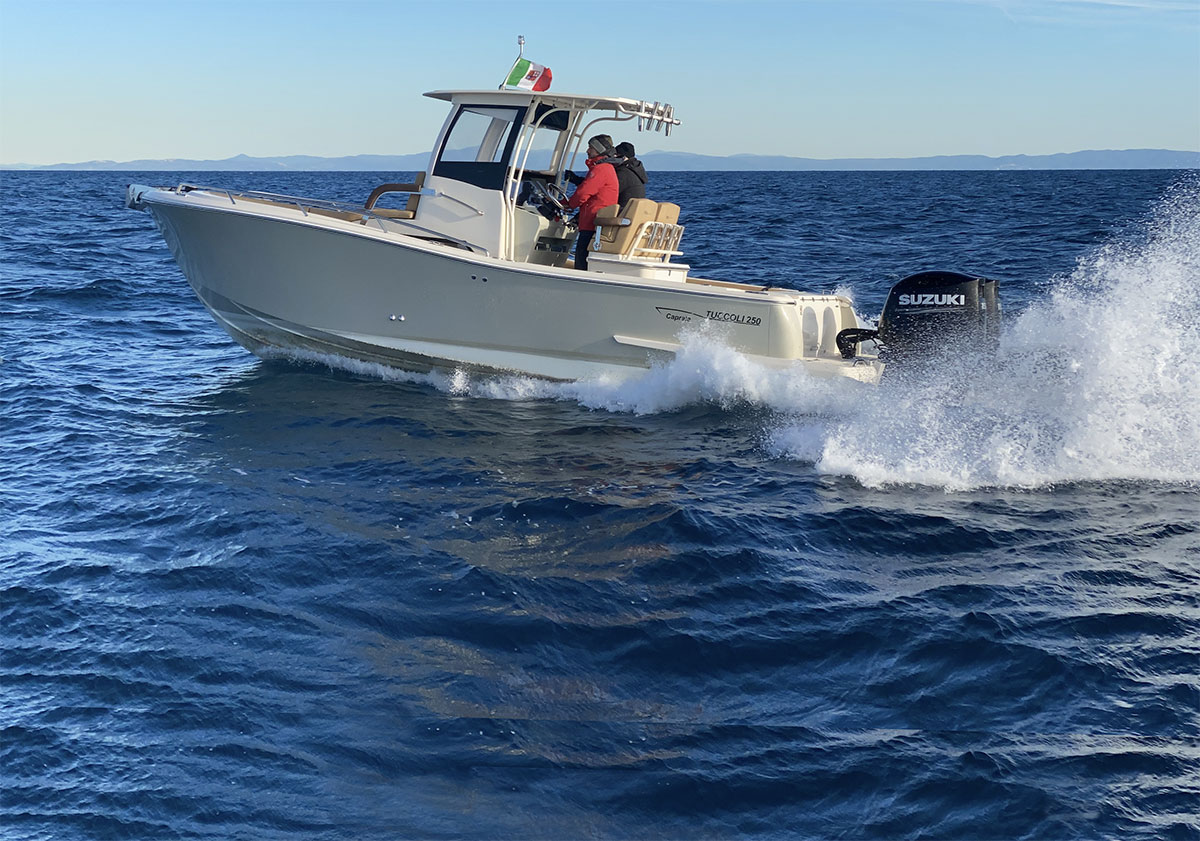 Technical Specs
Length: 7,77 m
Width: 2,55 m
Draft: 0,58 m
Displacement: 2400 Kg
Water Tank Capacity: 70 l
Fuel Tank Capacity: 310 l
Cruising Speed (approx): 26-27 kn
Fuel Consumption (approx): 35 l/h
Max Speed (approx): 40kn
Max Power: 350 HP
Design Category:
C – 6 people| D – 8 people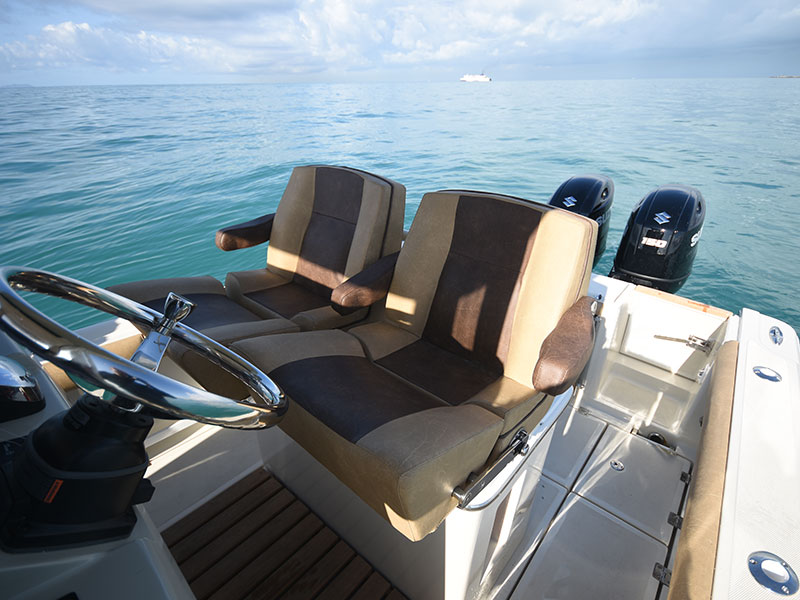 Optional seat with cooker and fridge
Complete your driving position with the seat you prefer. You can choose the VM Seat to enjoy a comfortable bench seat for 4 adults, with storage drawers that can be divided into compartments. The Gourmet Seat allows driving with a lumbar rest and includes a sink and cooker for cooking a superb dinner. If you choose the Leaning Post you have a backrest, storage compartment, plus you can optionally place a sliding fridge under the seat to keep food and drinks chilled. For dining and toasting with your partner and friends.
A helm station designed for hassle-free experiences
The helm station is designed for maximum convenience. Plenty of space for even a built-in display up to 15″ and a large shelf where you can place everything you want to have at hand. There is also a comfortable footrest for seated driving and a double cup holder to keep your drink safe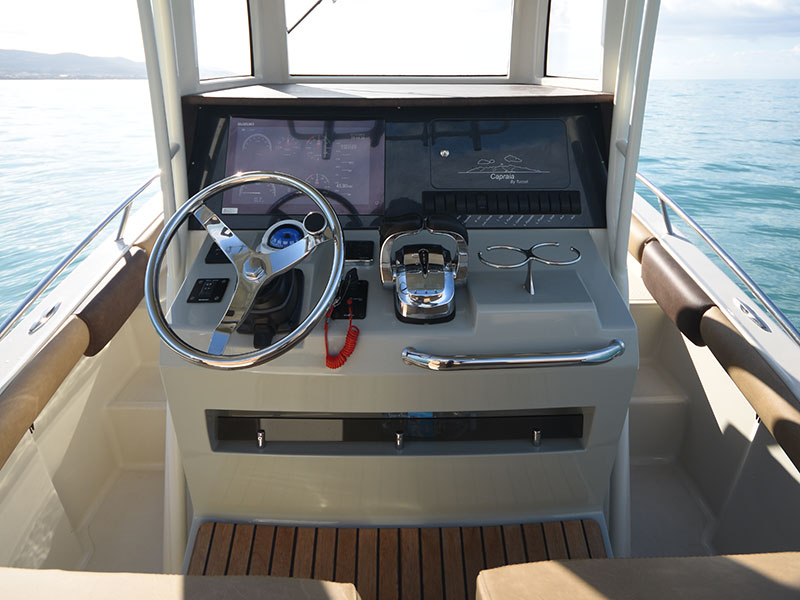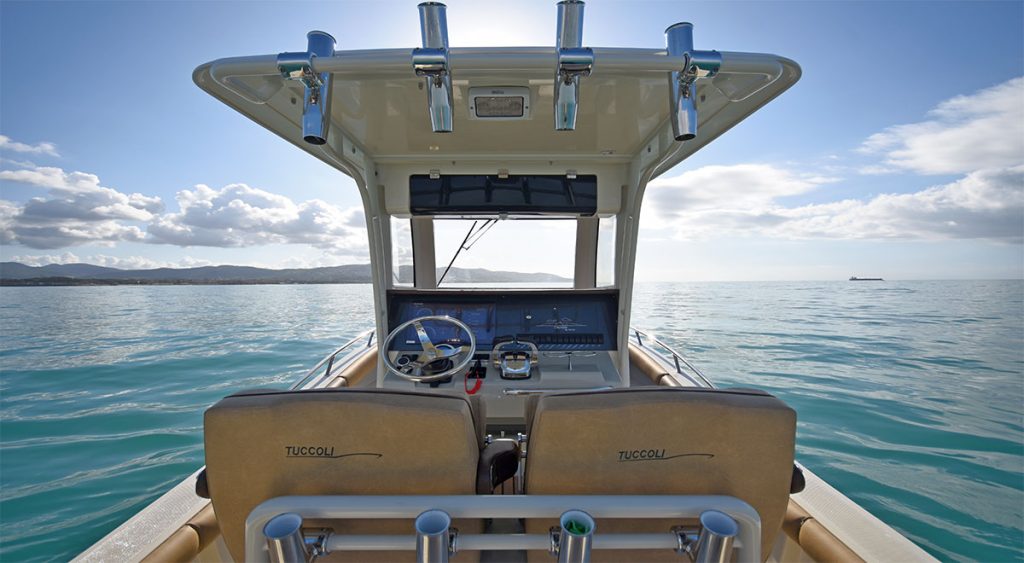 CONSTRUCTION
Born to handle the steep Mediterranean waves
Built to strict American fisherman's standards for more rigidity and longevity, with structural grids reinforcing the hull and varying fibreglass laminate thicknesses. Hand-laminated vinylester and polyester resins were used for the lamination. While the deck was designed 'sandwich style', to limit weight while maintaining strength. The water lines, an evolution of the legendary Tuccoli hulls, are designed to cope with the dry and steep waves of the Mediterranean, with a deep V at the bow and an ideal deadrise angle for cruising speeds between 26-27 knots and 40 knots to ensure safety and maximum sailing comfort. For you to decide when to go out or when to come in, not the weather.
A night&day experience, with your partner or friends
Cabin with double berth equivalent to a house bed: 1.90 x 2.00 metres with a marine toilet. Below deck you can change while standing, thanks to the 1.85 metre high interior. Perfect for spending nights out and planning fairytale weekends with your partner, each time choosing a different bay to wake up in. A love nest under the stars so you don't have to go back or find a hotel far from home.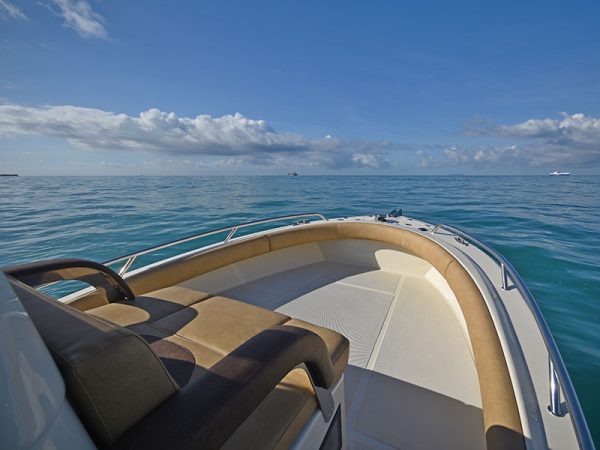 Leave Minn Kota on board and safe. No more extra encumbrance
Prepared for the Minn Kota trolling motor -which you can buy directly from us together with the long-life battery- with wiring and electricity already carried in the bow. Thanks to an internal design solution, you can leave it on board secured indoors in the forepeak. So you can avoid carrying it into the boat and taking it out again every time you return to port. You thus avoid taking up space in your car and loading up with bulky luggage. A thief-proof solution, also because thanks to the Garmin app you can keep the Minn Kota under remote video surveillance, as well as check the battery level and disconnect it when fully charged. So you'll always have this great tool to be quiet, accurate and fish more efficiently without worrying about anything but using it.
Outboard propulsion: minimum expense, maximum output
The use of an outboard propulsion unit has undoubted benefits. Cheaper to buy for the same horsepower, it is easier to install, maintain and in case you decide to change it. Moreover, the space that in an inboard or sterndrive is allocated to the engine room is used as storage space and without taking away usable surface area in the cockpit. Power installable between 150 and 250 hp for cruising speeds of 26-27 knots and top speed of 40 knots.