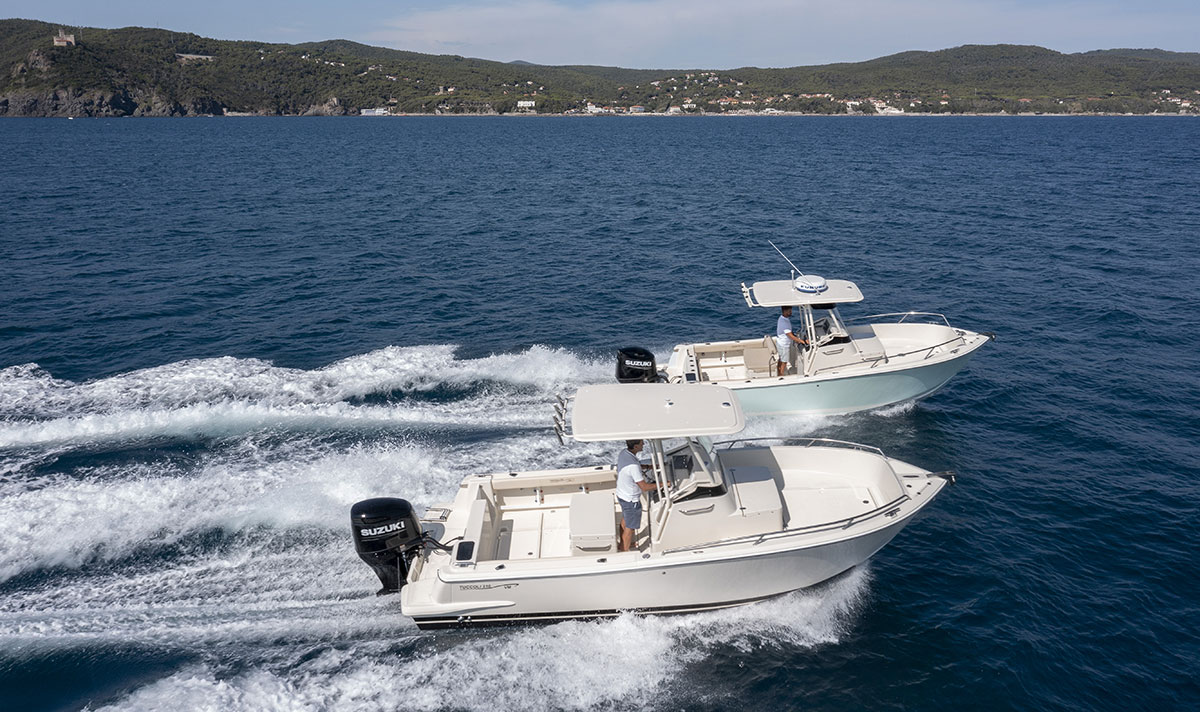 T210 VM
The compact fisherman
All you need for your fishing experiences
in less than 7 metres

EXTERIORS
Designed for you by a fishing champion
A beautifully designed boat whose on-board layout is designed to optimize your fishing activities. Deck, accessories and water lines have been designed by evolving the historical Tuccoli boats with the advice of 33-time world fishing champion Marco Volpi. Everything is designed to guarantee free and easy movement on board, with everything you need perfecly in order and within reach.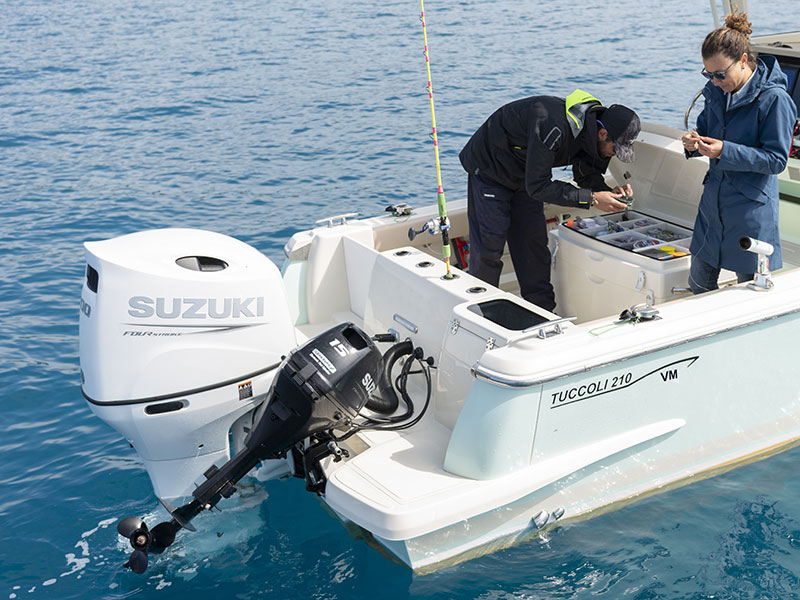 Fully-equipped for an improved fishing activity
The boat has everything you need for your fishing trips. A live bait tank is installed aft and can be converted into a convenient work surface; an extendable shower can be used for rinsing the cockpit and equipment. There is the possibility of adding a second one amidships to wash the console and the entire bow area. No more time wasted rinsing dried-out dirt in the harbour and no more boot load of smelly equipment.
Three seats to suit your fishing and boating style
Choose the driving seat that suits you best. The VM Seat offers a comfortable bench seat for 4 adults, with a storage drawer that can be divided into compartments and an insulated fish tank. The Gourmet Seat, on the other hand, includes a backrest, a sink and cooker for cooking a superb dinner with your fresh catch. The Leaning Post features an integrated backrest, storage compartment and worktop, plus an optional sliding fridge under the seat to keep food and drinks chilled. Perfect for toasting with partners and friends. And to keep everything cool at a controlled temperature.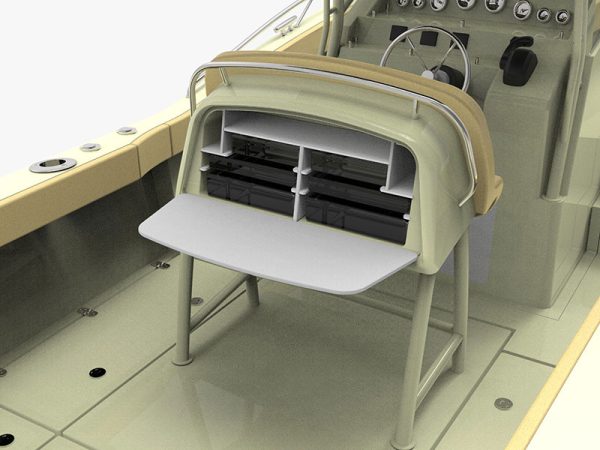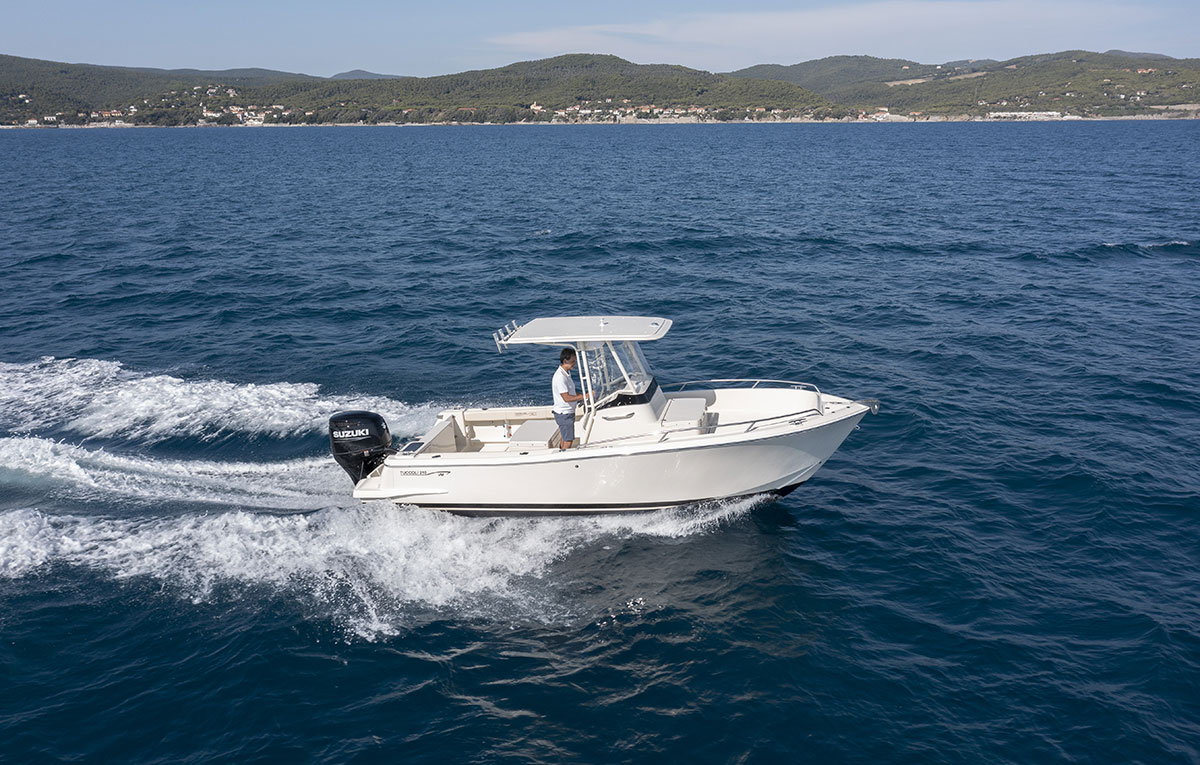 Technical Specs
Length: 6,88 m
Width: 2,55 m
Draft: 0,40 m
Displacement: 1800 Kg
Water Tank Capacity: 70 l
Fuel Tank Capacity: 270 l
Cruising Speed (approx): 24-25 kn
Fuel Consumption (approx): 26 l/h
Max Speed (approx): 40 kn
Max Power: 250 HP
Design Category:
C – 6 people | D – 8 people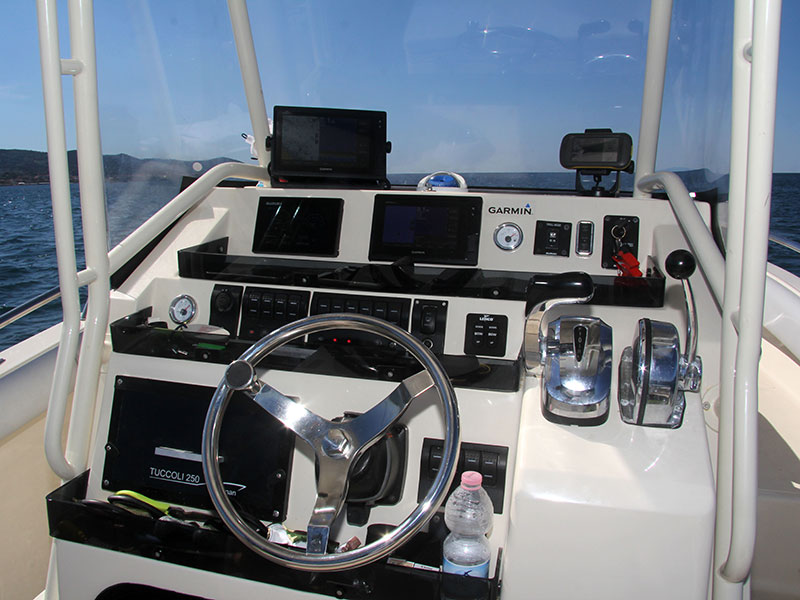 A real captain's bridge
The helm station is designed to facilitate your fishing actions. Three levels, each with a shelf enclosed by a smoked plexiglass edge, to place everything you need to always be available and within reach, even in rough seas. The configuration also allows you to accommodate the on-board electronics you want and the largest displays on the market. It accommodates the main engine throttles and the trolling petrol engine, as well as all the controls you need to steer your Tuccoli.
Super compact: minimum effort in port. And trailerable.
Everything you need for your fishing passion in just 6.88 metres overall length. Despite its size, the walkable area is 13.5 square metres, allowing you plenty of freedom of movement. Given its size, you do not have to register it or pay the annual yachting tax. What's more, you also save on berth fees: many ports reserve lower rates for compact boats. Last but not least, its width of 2.50 metres makes it trailerable: you can practically do without a berth.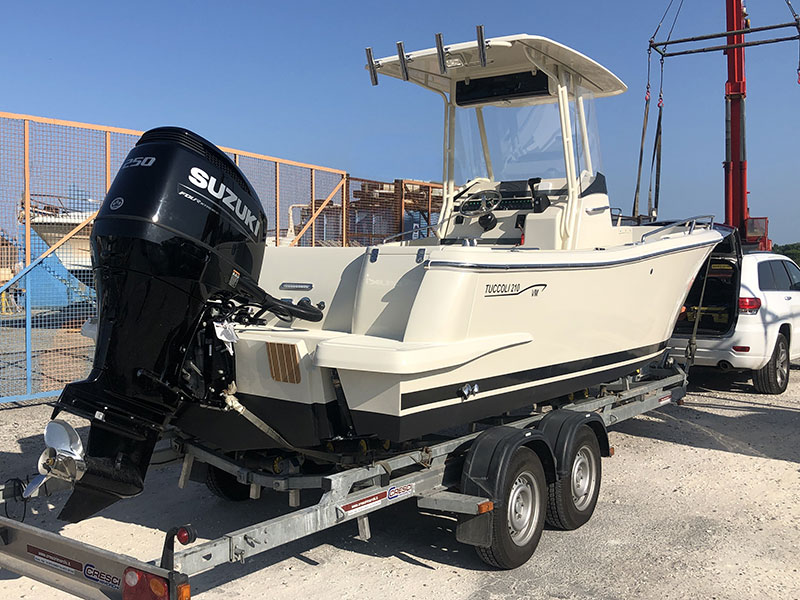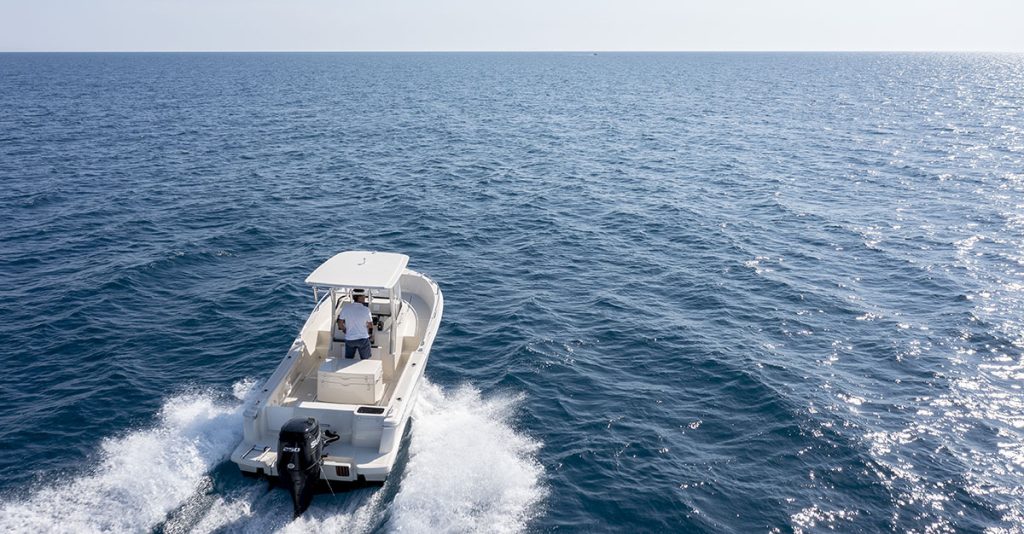 CONSTRUCTION
Born to ply the steep Mediterranean waves
Built to strict American fisherman's standards for more sturdiness and longevity, with structural grids reinforcing the hull and variable fibreglass laminate thicknesses ranging from 8 mm on the side to 15 mm on the keel. In this way, material is only put where it is needed, weight is optimized and performance is guaranteed. Hand-laminated vinylester and polyester resins were used for the lamination. On the other hand, the deck was designed 'sandwich style', to limit weight while maintaining strength. The water lines, an evolution of the legendary Tuccoli hulls, are designed to cope with the dry and steep waves of the Mediterranean, with a deep V at the bow and a deadrise angle of 20° ideal for cruising speeds of between 25 and 27 knots to guarantee safety and maximum sailing comfort. For you to decide when to go out or when to come back in, not the sea.
Leave Minn Kota on board and safe. No more extra encumbrance
Prepared for the Minn Kota trolling motor -which you can buy directly from us together with the long-life battery- with wiring and electricity already carried in the bow. Thanks to an internal design solution, you can leave it on board secured indoors in the forepeak. So you can avoid carrying it into the boat and taking it out again every time you return to port. You thus avoid taking up space in your car and loading up with bulky luggage. A thief-proof solution, also because thanks to the Garmin app you can keep the Minn Kota under remote video surveillance, as well as check the battery level and disconnect it when fully charged. So you'll always have this great tool to be quiet, accurate and fish more efficiently without worrying about anything but using it.
Outboard propulsion: minimum expense, maximum output
The use of an outboard propulsion unit has undoubted benefits. Cheaper to buy for the same horsepower, it is easier to install, maintain and in case you decide to change it. Moreover, the space that in an inboard or sterndrive is allocated to the engine room is used as storage space and without taking away usable surface area in the cockpit. Power installable between 150 and 250 horsepower for cruising speeds of 24-25 knots and top speed 40 knots.