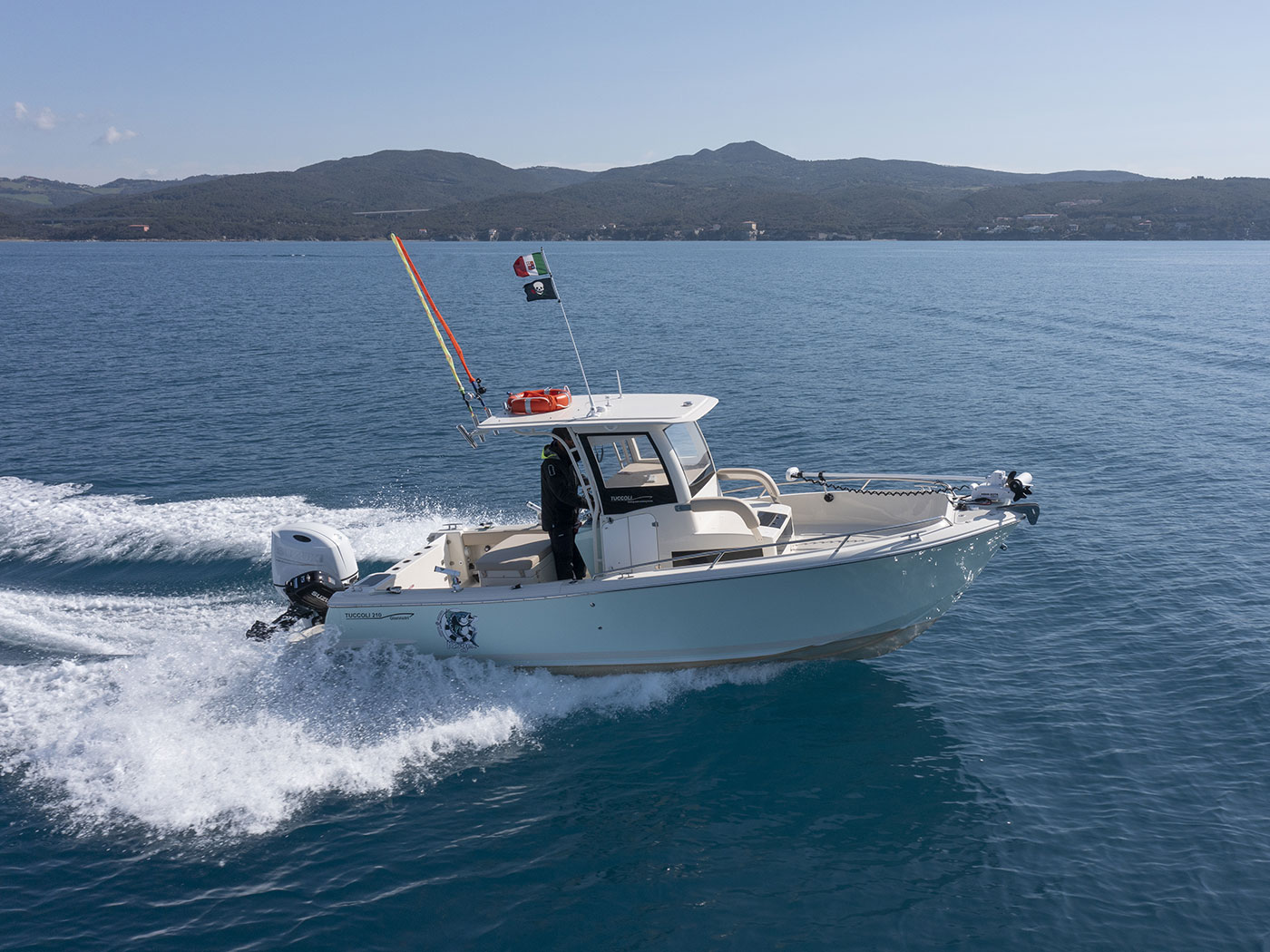 T210 Giannutri
The only cruiser under seven metres as strong as a fisherman

EXTERIORS
Relax for the whole family
suitable for your wife, children or anyone who doesn't fish. Relaxation is ensured by the extra-comfortable seating forward of the console and the entire bow, which can be converted into a huge 3.5-square-metre sundeck. For lounging, sunbathing, sleeping or watching the kids play safely thanks to the protection of the bulwarks.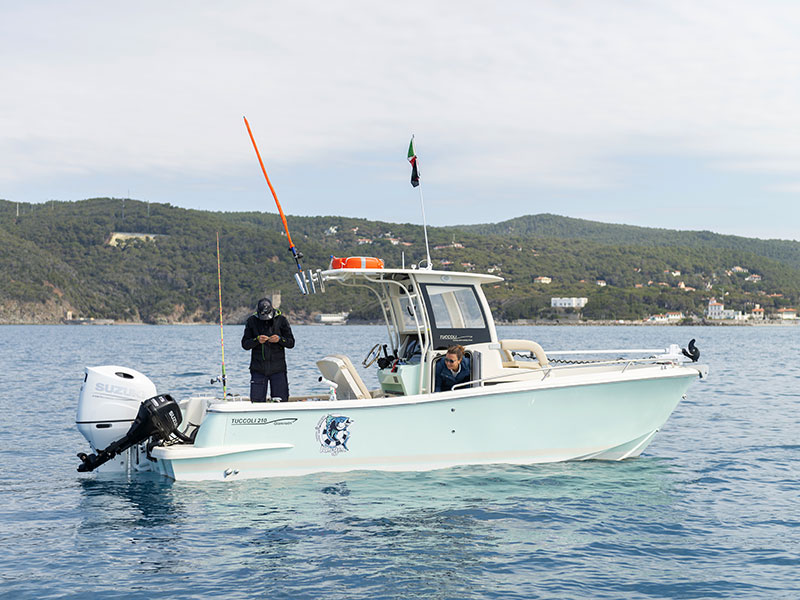 Night&day to make the couple feel good
A cabin with 1.80 x 2.00 metre double berth and marine toilet. A fisherman without equal in its category, the only one built in Italy under seven metres that allows you to spend nights out sleeping in a real cabin. An extra plus when planning longer fishing trips: you are not obliged to return home or find a hotel far from home. Ideal for planning fairytale weekends with your partner, choosing a different bay to wake up in each time. A love nest under the stars.
Three seats: choose the one for your driving style
Complete your driving position with the seat you prefer. You can choose the VM Seat to enjoy a comfortable bench seat for 4 adults, with storage drawers that can be divided into compartments. The Gourmet Seat allows driving with a lumbar rest and includes a sink and cooker for cooking a superb dinner. If you choose the Leaning Post you have a backrest, storage compartment, plus you can optionally place a sliding fridge under the seat to keep food and drinks chilled. For dining and toasting with your partner and friends.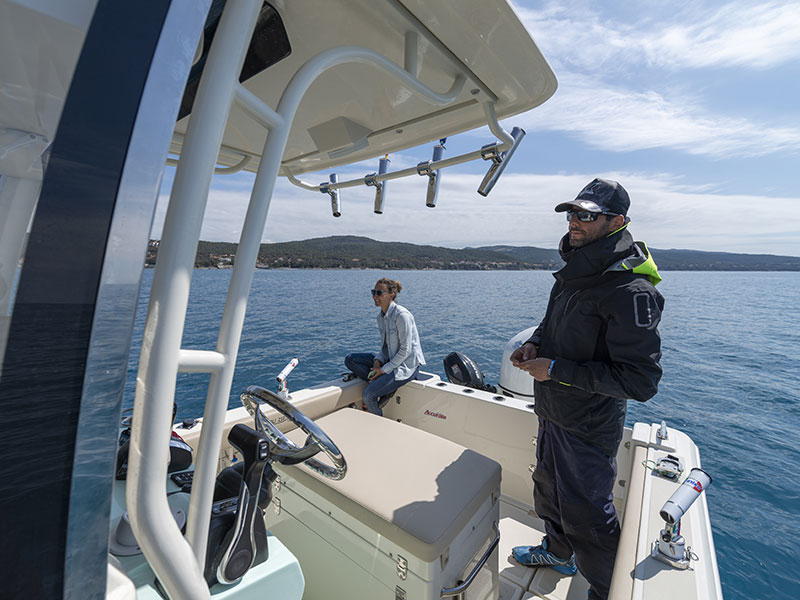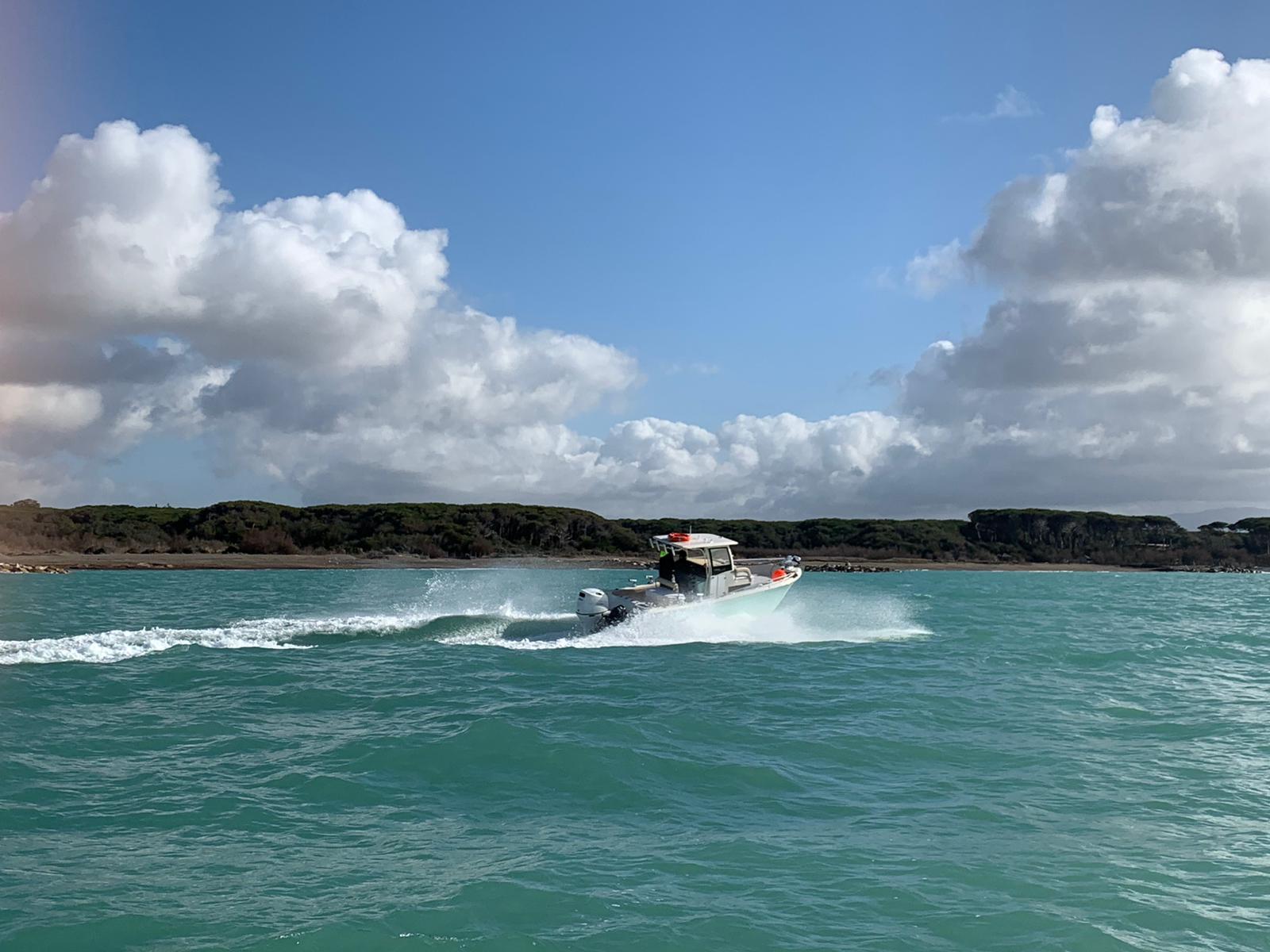 Technical Specs
| | | |
| --- | --- | --- |
| Length: 6,88 m | Width: 2,55 m | Draft: 0,40 m |
| Displacement: 1900 Kg | Water Tank Capacity: 40 l | Fuel Tank Capacity: 270 l |
| Cruising Speed (approx): 24-25 kn | Fuel Consumption (approx): 26 l/h | Top Speed (approx): 40 kn |
| Max Power: 250 HP | | |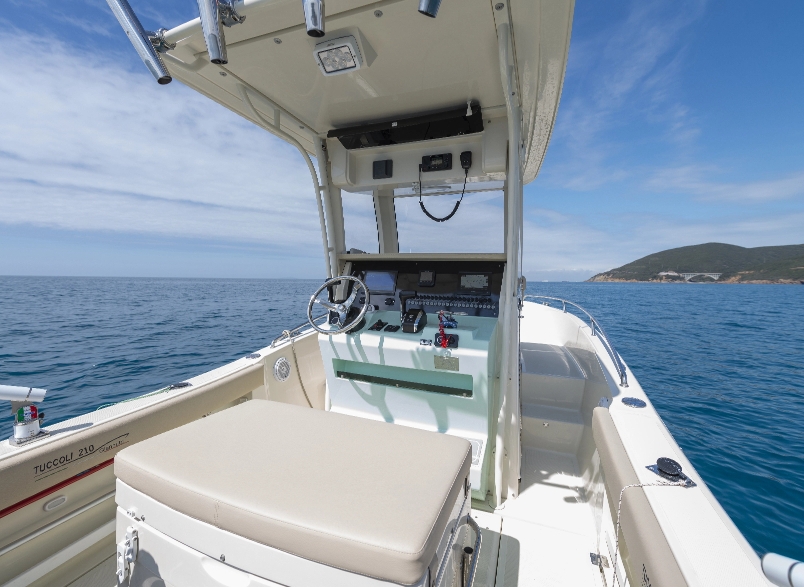 A helm station designed for hassle-free experiences
The helm station is designed for maximum convenience. Plenty of space for even a built-in display up to 15″ and a large shelf where you can place everything you want to have at hand. There is also a comfortable footrest for seated driving and a double cup holder to keep your drink safe.
Super compact: low fees in port. And trailerable.
All this in just 6.88 metres overall length. Despite its size, the walkable area is 13.5 square metres, allowing you ample freedom of movement, thanks also to the 1.75 m interior headroom. Given its size, it is registration free, so you do not pay the annual yachting tax. What's more, you also save on berth fees: many ports reserve lower rates for compact boats. Last but not least, its width of 2.50 metres makes it trailerable: you can practically do without a berth.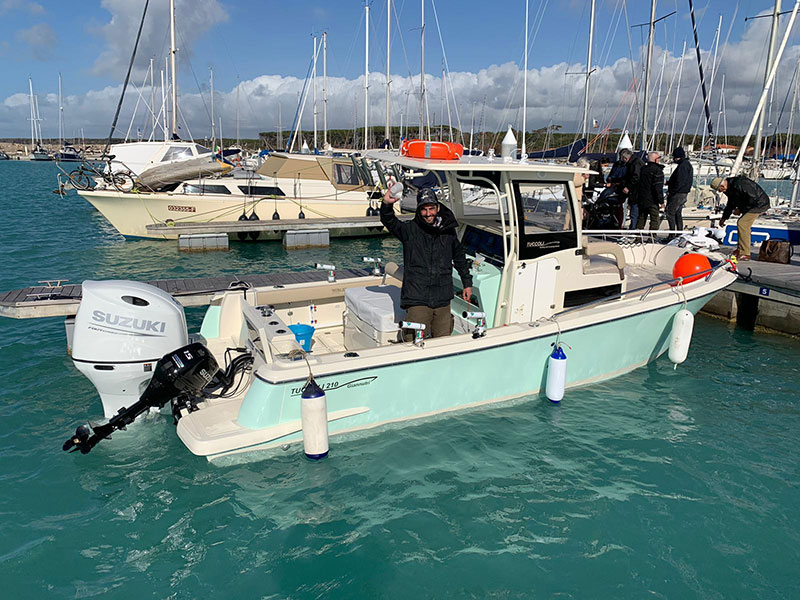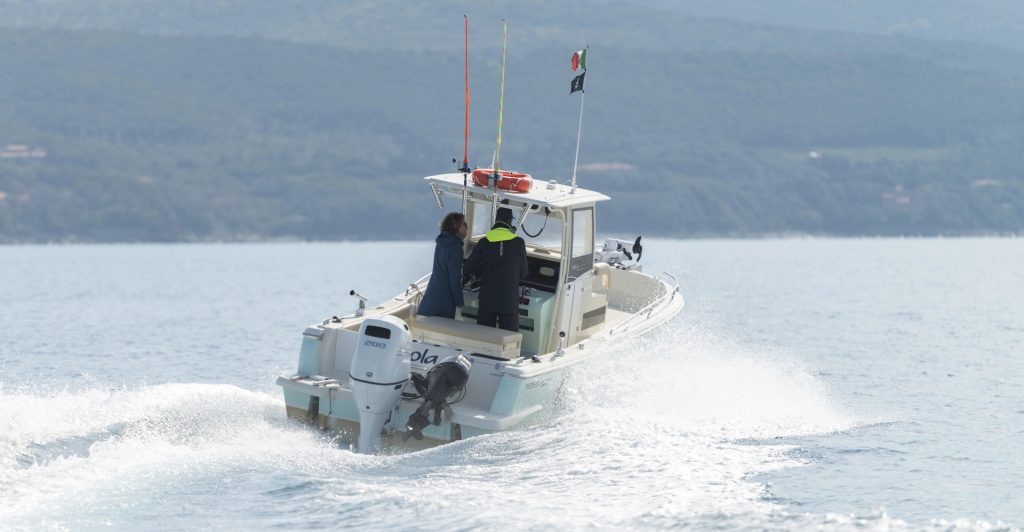 CONSTRUCTION
Born to sail even the steep Mediterranean waves
Built to strict American fisherman's standards for more rigidity and longevity, with structural grids reinforcing the hull and varying fibreglass laminate thicknesses ranging from 8 mm on the side to 15 mm on the keel. Hand-laminated vinylester and polyester resins were used for the lamination. While the deck was designed 'sandwich style', to limit weight while maintaining strength. The water lines, an evolution of the legendary Tuccoli hulls, are designed to cope with the dry and steep waves of the Mediterranean, to guarantee safety and maximum sailing comfort. So that it is you who decides when to go out or when to come back in, not the sea.
A cabin for two
Though the exterior dimensions are compact, the T210 Giannutri offers all the space you need to spend a night out with your partner. A two-metre long double berth, a marine toilet for the convenience of a sheltered and protected service room from the outside. Interior headroom of up to 1.90 cm so you can stand without having to bend over when changing or going to sleep. The galley is outside and is set up in the driver's seat.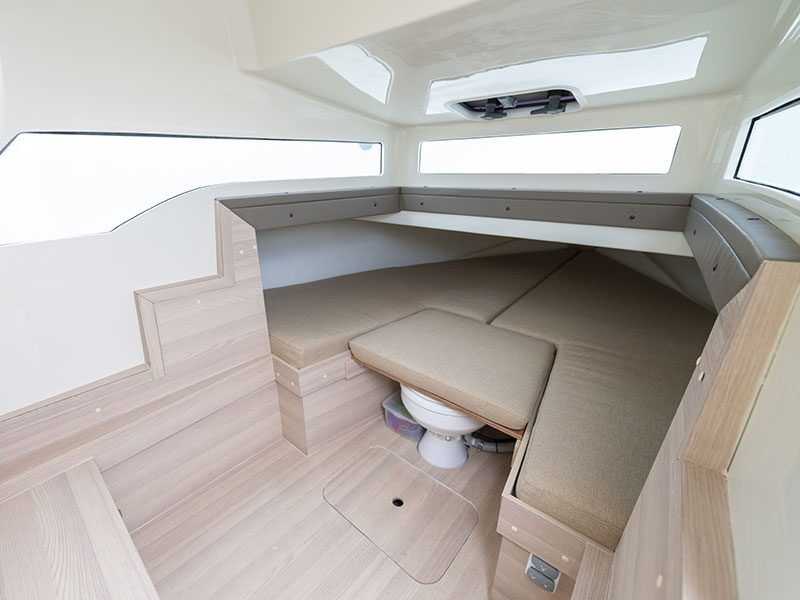 Forget the anchor: it is prepared for the Minn Kota
Prepared for the Minn Kota trolling motor, which you can have as an option, together with the extra battery already housed in the best position. The boat will be equipped with electrical wiring to bring power to the bow. You will thus always have a great tool for being quiet, precise and fishing more efficiently: you will practically never have to use the anchor again.
Outboard propulsion: minimum expense, maximum output
The use of an outboard propulsion unit has undoubted benefits. Cheaper to buy for the same horsepower, it is easier to install, maintain and in case you decide to change it. Moreover, the space that in an inboard or sterndrive is allocated to the engine room is used as storage space and without taking away usable surface area in the cockpit. Power installable between 150 and 250 hp for cruising speeds of 24-25 knots and top speed of 40 knots.