Nicola has just bought his third Tuccoli boat. His passion dates back to his adolescence, when he sailed on board a Flying Junior and went fishing on a power paddle equipped with a Seagull outboard and a light pole to support the net ("It ran like rockets!", he remembers enthusiastically). A Tuscan passionate angler and boat connoisseur, he loves the island of Capraia and Tuccoli boats. He owned a T35 with which he has sailed since recently, "but getting bigger I needed a boat which was a little smaller, easier to maneuver and easier to manage. Now, his T 280 EB is under construction. Nicola sails throughout the year, both for fishing and for long- range cruising in the Mediterranean. He often sails in displacement mode: "I get my boat on plane only if necessary, to escape bad weather or when I have stayed too long fishing and I have to return to port quickly. In these cases, I am pleased to have a boat that allows me to sail well in our seas. But, generally, I sail at sailboat speed. Six, seven knots. At this speed, I can enjoy my trip, with low fuel consumption, great range and total comfort.
Nicola, always at sea with pleasure

In short, a yachtsman who loves sailing and considers his boat as something more than a mere object of desire. What makes you such an enthusiastic Tuccoli owner? What led you to choose the brand for the third time? "I think it is the best boat in the world to sail where I sail, the Mediterranean Sea. Before taking the inboard T280, I also tried boats from other competitors, of course, including many American fisherman boats: there were beautiful and perfoming but with many limits. When you deal with the Mediterranean waves, things change. American boats ae stable, dry but uncomfortable. It's a continuous sequence of blows and micro strokes that I suffer a lot, especially since I've become more sensitive to my cervical… All the Tuccoli I've tried, instead, cut through the waves more decisively, they get into them with less pitching. Sure, they're wetter, but more comfortable. Behind the steering console, you're dry and protected by a large windscreen. However, when impacts come, they are inevitable.
The choice falls on the Tuccoli T280 EB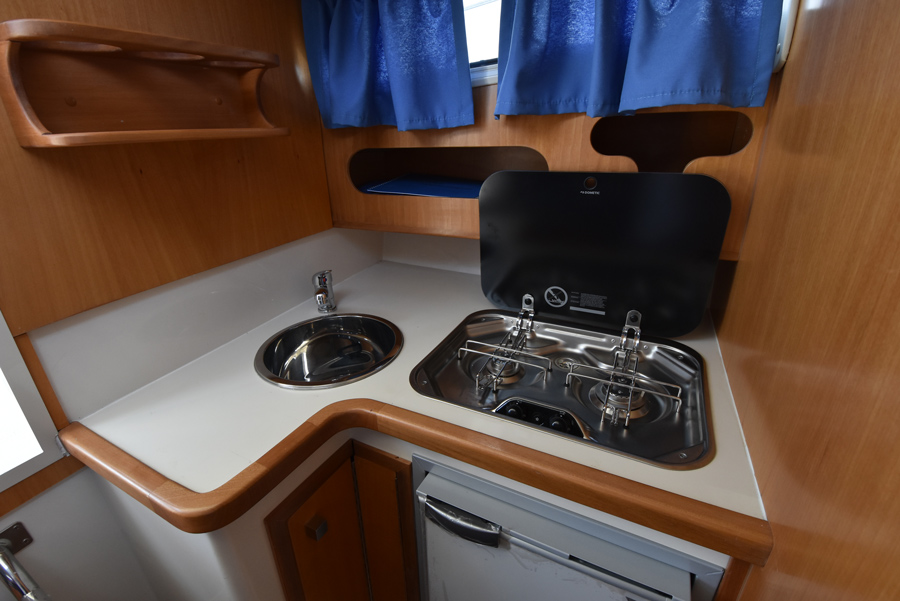 Why have you chosen an inboard T 280?  "Outboards have advantages, of course, they are cheaper, easier to reach and need less maintenance, even if they consume a bit more. But they're down there, behind the transom. The centre of gravity of the inboard boat is more balanced. The thrust is closer to the centre of the hull. Outboards, which need to be trimmed to the maximum when sailing with the sea in the bow, create a pendulum effect due to the upward thrust given by the waves and the downward thrust of the totally trimmed propeller. I prefer inboards.
No-frills sailing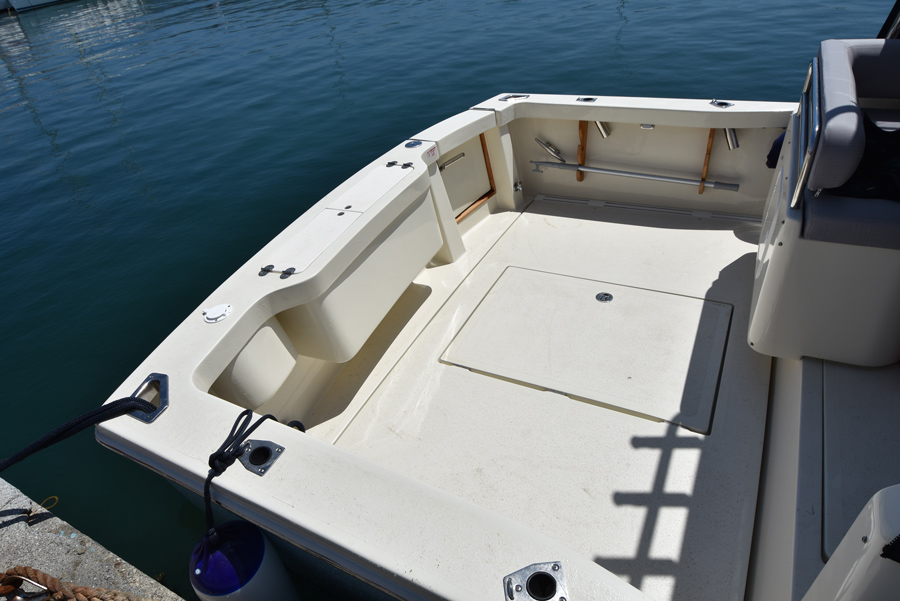 Don't you like the possibility of having more space on board that an outboard engine can give you?
"No, because I don't like to carry around useless things. One single cabin is enough for me. If I had extra lockers, I would end up filling it up with useless things."
You want a lighter boat but Tuccoli creations are not exactly lightweight….
"Tuccolo boats have an appropriate weight.  weigh what they must weigh. They are oversized compared to what the markets offerd today and this guarantees extreme longevity. My first Tuccoli is from 98 but still sails perfectly and shows a tenth of her age. Although shehas been used a lot. Those who have known Ivano and Marco (Tuccoli, ed.) know how sizeable they are. Well,  they applied the same dimensional principle to the structures of their boats. And this can only be an advantage."